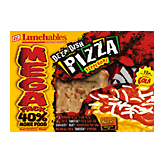 Deep Dish Pepperoni Pizza is a kind of Lunchable. It was originally part of the Mega and Maxed Out Packs. It has a soft pizza crust, pizza sauce, mozzarella cheese and pepperoni. It originally had cola, but it was later replaced by spring water.
Contents
Soft Pizza Crusts
TOMBSTONE Pizza Sauce
KRAFT Mozzarella Cheese (later added Cheddar Cheese)
Pepperoni Flavored Sausage
REESE'S Peanut Butter Cup (later replaced by CHEWY CHIPS AHOY! Cookies and CHEESE NIPS Crackers)
LUNCHABLES Cola (later replaced by Spring Water with KOOL-AID Tropical Punch Singles)
Community content is available under
CC-BY-SA
unless otherwise noted.